A Just Harvest
A Just Harvest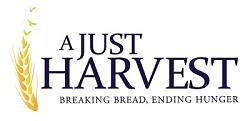 GREAT NEWS: A Just Harvest will once again be serving meals in person!
Their first in-person Sunday lunch will be Sunday, November 13, and volunteers are needed beginning in November and each month beyond!
On the 2nd Sunday of every month, Hakafa members bring and serve lunch to more than 150 people at A Just Harvest's Community Kitchen (7649 N. Paulina St, Chicago). Hakafa's tzedakah fund can reimburse you for expenses, if needed.
Volunteers will need to arrive at 11:00 AM, and lunch will be served from noon to 2:00 PM.
Click here for more details and to sign up to volunteer.
Contact Monique Parsons. with questions.
- - - - - - - - - - -
A Just Harvest's mission is to fight poverty and hunger in the Rogers Park and greater Chicago community by providing nutritious meals daily while cultivating community and economic development and organizing across racial, cultural and socioeconomic lines in order to create a more just society
A Just Harvest's Community Kitchen began as a ministry of the Good News Community Church (United Church of Christ) in 1983. In the beginning, they served meals a few days per week. Today, with the help of more than 40 partnering organizations and nearly 10,000 volunteer hours, the Community Kitchen is the largest and only self-standing community soup kitchen in the Chicago metro area. They serve hot, nutritious meals 365 days per year to anyone in need. Last year, the Community Kitchen served more than 54,000 meals.
Wed, September 27 2023
12 Tishrei 5784
Upcoming Programs and Events
Wed, September 27 2023 12 Tishrei 5784