A Just Harvest
A Just Harvest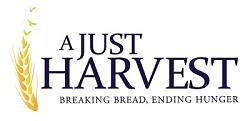 On the second Sunday of each month, our congregation has the responsibility of purchasing, preparing, and serving a meal for approximately 140 men, women, and children at A Just Harvest in Chicago, just north of Howard Street.
Each month, four families from Hakafa are needed to share in this meaningful experience. This year's volunteer roster still has many openings. Even if you won't be available to serve at the kitchen, you can participate by purchasing food or simply by contributing financially, a critical need. If you would like to help, click here to sign up for a date online or contact Monique Parsons or Debbie Charen.
- - - - - - - - - - -
A Just Harvest's Community Kitchen began as a ministry of the Good News Community Church (United Church of Christ) in 1983. In the beginning, they served meals a few days per week. Today, with the help of more than 40 partnering organizations and nearly 10,000 volunteer hours, the Community Kitchen is the largest and only self-standing community soup kitchen in the Chicago metro area. They serve hot, nutritious meals 365 days per year to anyone in need. Last year, the Community Kitchen served more than 54,000 meals.
Sun, September 20 2020
2 Tishrei 5781
Sun, September 20 2020 2 Tishrei 5781