A Just Harvest
A Just Harvest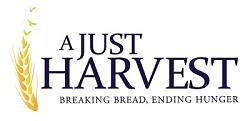 Due to COVID-19, A Just Harvest now serves a daily boxed lunch to more than 150 people (no seated dinner). No volunteers are permitted in the kitchen, but Hakafa still provides the Sunday lunch on our designated Sundays. Volunteers are needed to provide the fried chicken entrée, salad, vegetables, fruit, and dessert on the second Sunday morning of the month. The fried chicken needs to be ordered and picked up at 11:00 AM from the Jewel on Howard and delivered to A Just Harvest. All other items should be left at A Just Harvest's door at 10:00 AM. Hakafa's tzedakah fund can reimburse you for expenses, if needed.
If you would like to help, click here to sign up for a date online or contact Monique Parsons or Debbie Charen.
- - - - - - - - - - -
A Just Harvest's Community Kitchen began as a ministry of the Good News Community Church (United Church of Christ) in 1983. In the beginning, they served meals a few days per week. Today, with the help of more than 40 partnering organizations and nearly 10,000 volunteer hours, the Community Kitchen is the largest and only self-standing community soup kitchen in the Chicago metro area. They serve hot, nutritious meals 365 days per year to anyone in need. Last year, the Community Kitchen served more than 54,000 meals.
Sun, December 5 2021
1 Tevet 5782
Sun, December 5 2021 1 Tevet 5782