Birth
Birth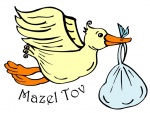 Every person born into this world represents something new, something that never existed before, something original and unique. It is therefore the duty of every person to know and consider their uniqueness. In Judaism, that uniqueness is represented through their Hebrew name, a symbol that links the child to generations past and future.
At Hakafa, Rabbi Elder, in conjunction with the parents, designs and conducts baby naming ceremonies.
For those looking for a mohel for a brit milah (bris), click here for a list of local mohelim/mohelot.
Wed, September 27 2023
12 Tishrei 5784
Upcoming Programs and Events
Wed, September 27 2023 12 Tishrei 5784