Simchat Torah
Simchat Torah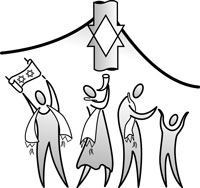 On the holiday of Simchat Torah, the annual reading of the Torah is completed and the cycle is immediately renewed in a grand celebration that includes dancing with the Torah and carrying flags in a parade-like fashion. We affirm that the Torah is central to the Jewish people. It is our heritage and our history. Its teachings have served as a bond, linking Jews, young and old, over many generations, over time and space, in every land we have lived.
Consecration
At Hakafa, we hold a ceremony of consecration during our Simchat Torah celebration. Consecration is a ceremony for children in Kindergarten, as well as first, second, and third graders who are beginning their religious school experience. It is a very special ceremony in which students are blessed as they start their formal Jewish education. Because Simchat Torah marks our finishing of the yearly cycle of Torah readings, as well as our turning to begin it once again, it is a fitting time to recognize these students' entry into the never-ending process of Jewish learning.
Yizkor
Jewish tradition tells us that four times during the year, in addition to the anniversary of the death of a loved one, we are to recall the memories of those who have died. These four times, known as yizkor (remembrance), coincide with major holidays on the Jewish calendar. The last day of Sukkot, known as Shemini Atzeret, is one on which yizkor is traditionally recited.
Sun, September 20 2020
2 Tishrei 5781
Sun, September 20 2020 2 Tishrei 5781