Hosting an Oneg
Hosting an Oneg
Hosting a Friday night Oneg Shabbat is a wonderful way to help support Hakafa and is also a nice way to celebrate a bar/bat mitzvah, birthday, anniversary, or other special occasion with the congregation. In addition, many people traditionally honor the memory of a loved one on his/her yahrzeit by hosting an oneg.
Normally, responsibilities include bringing the food/drinks for the oneg, coming to services early to set-up, and staying afterwards to clean-up. Since we are meeting via Zoom during the COVID-19 pandemic, we are providing the opportunity for members to "sponsor" a virtual oneg.
Here's how it works:
1) Choose a Friday night to sponsor, and sign up online at this link or by contacting Suzanne Shore and Gayle Inbinder (oneg@hakafa.org).
2) Make a donation to a charity about which you are passionate.
3) Light the Shabbat candles that night at services (Sara will lead us all in the blessing, unless you would prefer to recite it yourself.).
4) During announcements, you will be able to tell us about the place to which you donated.
5) Hakafa will make a donation to that organization in your honor.
6) Even if you cannot be at services that evening, we will tell participants about your cause, and Hakafa make the donation in your honor.
If you would like to host an oneg, click here to sign up online
or contact Suzanne/Rick Shore and Gayle Inbinder to reserve a date.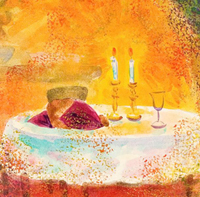 Click here to see what is normally involved in
hosting a Hakafa Friday night oneg.
Mon, January 24 2022
22 Sh'vat 5782
Mon, January 24 2022 22 Sh'vat 5782