Kadima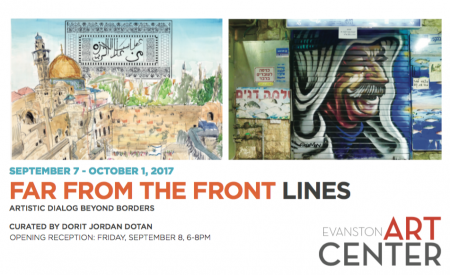 ​
Tour of Juried Group Art Show: Far From The Front Lines
Sunday, September 10
2:00 to 4:00 p.m.
Evanston Art Center (1717 Central Street, Evanston)

Please join us for a tour by Dorit Jordan Dotan of her curated group art show: Far From The Front Lines. This contemporary art exhibition includes 22 local artists (including Hakafa's own Judith Joseph) who strongly feel that art is personal - that the personal is political, and the political is very personal. Artists who are Far From The Front Lines have created an opportunity for artful dialog beyond borders. It allows both the audience and the artists themselves to actively promote meaningful change in our minds, where all borders ultimately reside. This exhibit is about coexistence, hope, and showing fine art that will influence new ways of thinking. The context of an exhibition expands the space of the artist to encompass not only the individual onlooker, but a community as a whole: diverse, tolerant, contentious, questing after justice at home, and personally invested in conflicts far away. The exhibition includes paintings, photography, calligraphy, installation, video, mixed media and new media.
Dorit Jordan Dotan, multi-media artist, was born in Israel in 1961. She combines photography with innovative digital art and mixed media. Through her art, she expresses her views about political, social and cultural topics. She lives and works in Evanston, IL. She is a Fellow with the Jewish Art Salon - New York, and participates with the Artist's Lab at Spertus, Chicago. Her work has been exhibited throughout the US and internationally, in Chicago, New York, Berlin, Toronto and Israel.

Please RSVP for this very interesting and educational event to Betsy Hersher (847-945-5974 or hersherb@hersher.com).

*Kadima (Hebrew for "forward") is a group at Hakafa, primarily for members of adult-only households, although any Hakafa member is invited to participate.
Please contact Betsy Hersher to get involved in future planning for our group.